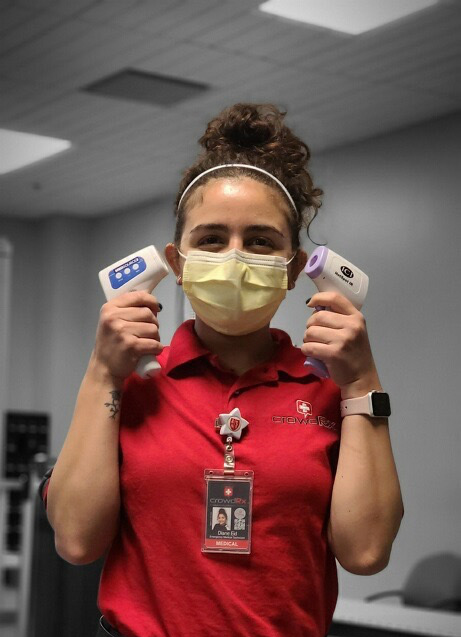 Agile Response to a Rapidly Evolving Situation
On January 31, 2020, the US Department of Health and Human Services declared a public health emergency to aid the nation's healthcare community in responding to COVID-19. While COVID-19 was a major threat across Asia at the time, it had not yet been determined to be a global pandemic. CrowdRx was engaged to provide innovative onsite medical solutions to screen attendees.
At the time of the event, little was known about COVID-19. Because of the rapidly evolving situation, CrowdRx established a team of experts to provide updates to our client every 12 hours.
Health Screening and Safety Plans Implemented
Throughout the event and during its setup, CrowdRx strategically employed its active and passive fever screen systems. This provided our client with the confidence that their event was covered by accurately identifying individuals with above-normal body temperatures and/or systemic fevers.
At the event, CrowdRx deployed two of our portable thermal imaging fever-screen camera systems. These are used as first-level mass screening tests for accurately identifying individuals with above-normal body temperatures or fevers signaling possible novel coronavirus  infection. This infrared thermal imaging device works by comparing people's skin temperatures against an average set temperature.
The fever screening provided little or no inconvenience, or interruption of movement, for most of the attendees. The cameras were able to read up to 500 attendees per hour as they passed into the venue.
The benefits of covering points of entry with thermal imaging fever screening are:
Containment
Deterrent to individuals considering traveling with undiagnosed symptoms of fever
Flexibility in escalation of screening protocols due to level of risk
Reassurance for other attendees who could be exposed
CrowdRx also developed a comprehensive emergency response plan, as well as a disinfecting plan implemented by a third-party cleaning service.
Ahead of the Curve—CrowdRx First in US to Use Thermal Imaging for Crowd Fever Screening
CrowdRx was the first to deploy this type and scale of temperature screening program for a major event in the US. Shortly thereafter, under recommendations by the Centers for Disease Control, health screening programs, including temperature checks, became a nationwide standard to help protect the health and safety of employees and customers.